You've arrived at the annual NatCroMo Blog Tour! What is that, you ask? It's a virtual celebration of National Crochet Month with new blog content daily throughout March, including featured crochet designers, free patterns, discounts, giveaways, and more.

This year our theme is The Crochet Concert and we are celebrating music as creative inspiration. Each featured designer's showcase will include an "Opening Act" (a quick or easy pattern); "Intermission" (the designer's favorite crochet tools, yarn, or books); a "Showstopper" (an impressive or unique pattern); and "Designer's Choice" (any pattern of the designer's choice).

See all of this year's tour here: NatCroMo Blog Tour 2021.
Some of the links on this page will earn us a commission if you make a purchase through them. View our disclosure policy for details.
---
About Nikki McMahon
I'm a former Bio/Chem teacher, turned SAHM to my four kiddos, turned crochet designer. I love designing modern crochet patterns for your home and everyone in the family!

I learned to crochet almost 20 years ago when an RA in my freshman dorm taught all the girls on the hall as an icebreaker. Many, many baby blankets, sweaters, and beanies later, I realized that one of my favorite parts of crochet was the process of designing an item from scratch. I'm one of those people who can never find exactly what I'm looking for in stores, so the revelation that I could just design things myself – exactly how I want – was HUGE! I began designing and writing down my own patterns a few years ago just for personal use. Then in 2020, I got the bright idea that others might possibly be interested in my ideas and The Knotted Nest was born!

In the short year that I have been sharing my patterns with the world, I have learned SO much! Most importantly, that the crochet community is amazing! I have been so fortunate to collaborate with many fabulous designers and brands over the past year and my business has grown beyond my wildest dreams. I absolutely love what I do and I'm so thrilled to be a part of making an old-timey craft cool again!
---
Nikki's Special for Our Readers
Readers can get 50% off all Nikki's pattern PDFs in her Etsy and Ravelry shops using the coupon code NATCROMO50 – offer good March 28-April 4, 2021.
---
Nikki's Creative Inspiration
Is music a source of inspiration for your crochet creativity? Or do you listen to music while you crochet? If so, tell us about it. If not, what is something else that helps fuel your creative inspiration?
I grew up in the 90's, so I definitely listen to a lot of Sheryl Crow and Dave Matthews Band while I crochet; but my true musical inspiration comes from the older stuff – Bob Dylan, Janis Joplin, Fleetwood Mac, and my all-time favorite, Tom Petty. "Wildflowers" is my favorite song and I hope that the empowering, earthy, and slightly whimsical vibe that I love about the song comes through in the patterns that I design.

My 10-year-old has recently started learning the violin and the trumpet, so these days my crochet background music is more likely to be "Hot Cross Buns" and "Twinkle Twinkle," and I wouldn't have it any other way! Our house is loud, but I am excited to see her love for music grow!

Music has been an inspiration to me, but my main motivation and inspiration in sharing my patterns and starting my business has always been to show my kids that, with enough determination and hard work, it is possible to pursue any dream you can come up with (even if it's as wacky as designing crochet patterns :-p ).
---
Design Showcase: The Opening Act
Pattern name: Easter Bunny Garland
Get the pattern: https://knottednest.com/easter-bunny-garland-free-crochet-pattern/
About the pattern: I love designing crochet garlands for every season/holiday and this Easter Bunny Garland is the one that started it all! The little bunny behinds are fast and fun to make and can be used in so many different ways – from mantle decoration, to Easter basket gifts, to nursery decor!
---
Intermission
Tell us about one (or more) of your favorite crochet-related items.
Probably my newest favorite tool for crochet is my yarn swift! I got mine (Birch Yarn Swift) from WeCrochet/KnitPicks, and it is a game changer! If you've ever bought yarn in hanks and had to wind it without a swift, you know what a mess that can be. I hesitated to buy one for so long, but it has saved me so much time!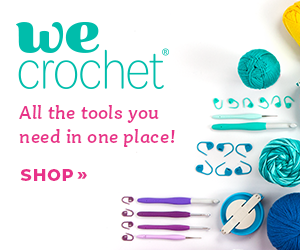 ---
Design Showcase: The Showstopper
Pattern name: Spring Plaid Poncho
Get the pattern: https://knottednest.com/spring-plaid-crochet-poncho-free-pattern/
About the pattern: This lightweight, drapey wrap is perfect for cool spring days when you're ready to ditch the heavy coat, but still want something stylish to keep the chill away. The unique plaid effect is achieved with an easy weaving-on-crochet technique that produces a sophisticated look, but is actually super simple to do! The whole pattern is made in one piece (no seaming!) and uses only one stitch – double crochet. Whether you're a beginner looking to make your first garment, or a seasoned pro searching for something new and different, the Spring Plaid Poncho is a great showstopping make!
---
Design Showcase: Designer's Choice
Pattern name: Mustard Puff Infinity Scarf
Get the pattern: https://knottednest.com/mustard-puff-infinity-cowl/
About the pattern: The design for this cowl pattern just came to me out of nowhere while on a road trip to my in-laws' house for Thanksgiving. It doesn't happen very often, but it's always so gratifying when a design works up exactly like what you had envisioned on the first try! I think that's why it's one of my favorites! Also, I love how the easy-peasy puff stitches almost give it a cabled look without all the tricky front post/back post stuff. Plus, it's reversible!
---
Crochet Garlands
Over the past year, I have developed a bit of an obsession with designing themed crochet garlands. I have patterns for Easter, Fall, Christmas, and even St. Patrick's Day (you can check them out here: Crochet Garland Patterns)! Many of my garland patterns came from the suggestions of the talent members of the crochet community. I'd love to hear from you if there is anything you'd like to see join my collection!
---
Follow Nikki Online
Here's where you can connect with Nikki online to be sure you don't miss any of her new designs!
---